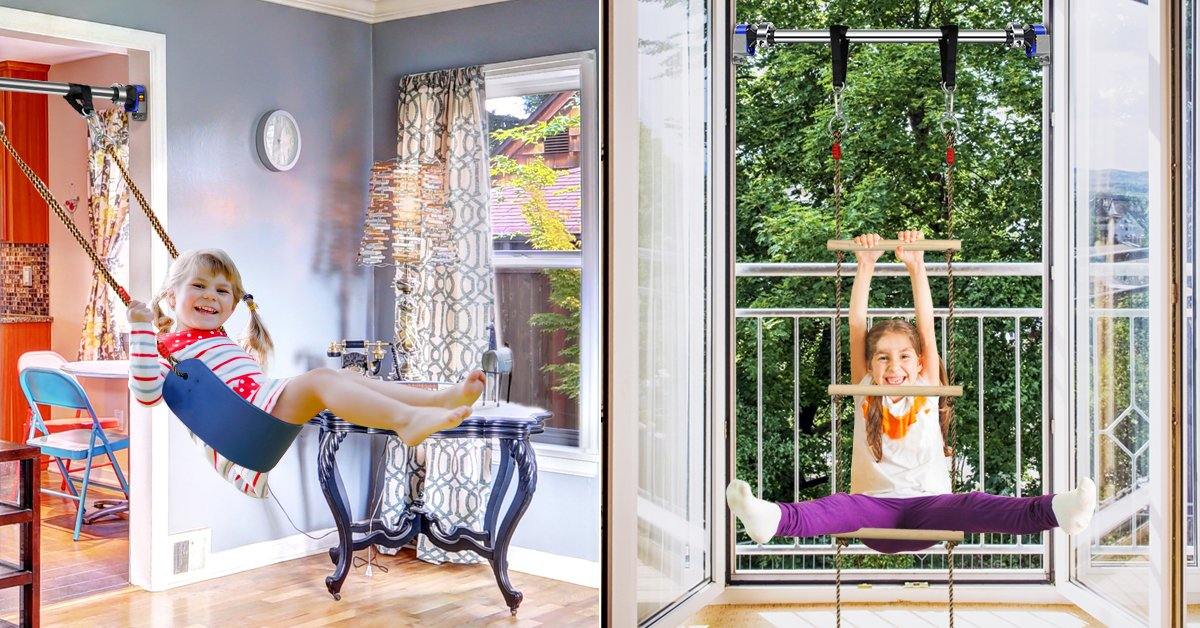 Every cold winter, children are always reluctant to go out for activities. The snow is piling up outside and the wind is blowing. This is really not a good time to go out and exercise. But children are always active, for the sake of their health, we should also encourage them to do activities indoors. What kind of indoor sports should they try? I will introduce to you Klokick doorway gym kit.
As the name suggests, the indoor gym bag is suitable for porches or corridors. It includes four accessories: horizontal bar, trapeze ring, swing and ladders. We focus on every sports and entertainment product designed for children, and this swing set is no exception. Below I will introduce these four accessories for you one by one.
The first is the horizontal bar, which is the core of the entire indoor suit. You can use this horizontal bar alone as a pull up bar, or put it on the floor as a fixator for your sit-ups. Of course, its most important function is as a suspension fixture for swings, rings and ladders. The width of the crossbar is 25 inches to 36 inches, which can be adjusted according to the width of the porch. Sure, you can also hang your other accessories on it. Its maximum weight is 440lbs, so you don't have to worry about whether it will fall
The second accessory is the swing. The material of the swing is EVA. It has very strong toughness and load-bearing ability, so you don't have to worry about whether it will break during use. And we have adopted an upgraded swing rope, which is stronger and more durable.
The third accessory is the trapeze ring. The shape of the ring is triangle. Compared with the circle, it has a larger area of force points. When you use it, it will not feel so laborious. Like swings, our ropes have been upgraded to be more durable.
The fourth is to climb a ladder. The ladder is made of wood and rope, which is easier to maintain balance than a simple rope ladder. When using it, the child will not fall because of losing balance. Moreover, children can enjoy the fun of climbing indoors, which will bring endless joy to children.
The cold winter makes people afraid to go outside to participate in more outdoor activities, then you can choose our doorway gym kit. In the warm room, children can also engage in entertainment and exercise activities!
---