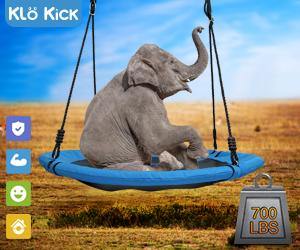 Klokick provides different kinds of swing like saucer swing, platform swing, tent swing with different models. When you come into Klokick website, you may just want to buy a swing at first. But when you found that there are several models, which one fits the best?
Here are brief introduction for some of klokick models.
Saucer swing - DR0582L/DR0597L/DR0584C/DR0583G
All of them are 40 inch saucer swings, hold up to 700lbs with 900D Oxford fabric. The medium size of swing is the best selling one which can contains 2-3 kids or 1-2 adults. The only difference among these swings is the color. "L" means "Blue", "C" means "Colorful", "G" means "Green". If you are willing to buy this type, the only point you need to make choice is the color.
Heavy duty swing - DR0516L
Heavy duty swing is the swing with heavy duty chain which can hold up to 1000lbs. If the weight capacity is really a big issue to you, the heavy duty swing is the best choice. 40 inch size with Textilene fabric, which is UV-resistant and safer.
Web swing - CR0564G/CR0566L/CR0590L
If you want a medium size, CR0564G and CR0566L will be good enough to you. But sometimes, A extra-large swing like CR0590L with 45 inch size for the backyard will be the hit of the neighborhood and at parties. The best alternative to the tire swing and safer than the wooden swing. Multiple children can swing at the same time.
Tent Swing - DR0517L/DR0518L
Tent swing is composed by saucer swing and cover, which can be used both for indoor and outdoor as the cover is waterproof. The difference between the two tent swing DR0517L and DR0518L is the size. 40 inch for DR0517L, 45 inch for DR0518L. If you are willing to build private space for your kid, tent swing will be the best choice. And the 2 in 1 combo design makes its installation easy and convenient.
Platform swing - DR0512L/DR0565L/DR0519C
The platform swing can be divided into square swing DR0512L/DR0565L and skycurve swing DR0519C. Larger space that can contain more kids. The swing made with Textilene fabric which is UV resistant. The model DR0519C is special designed with skycurve which will be safer when swinging.
---