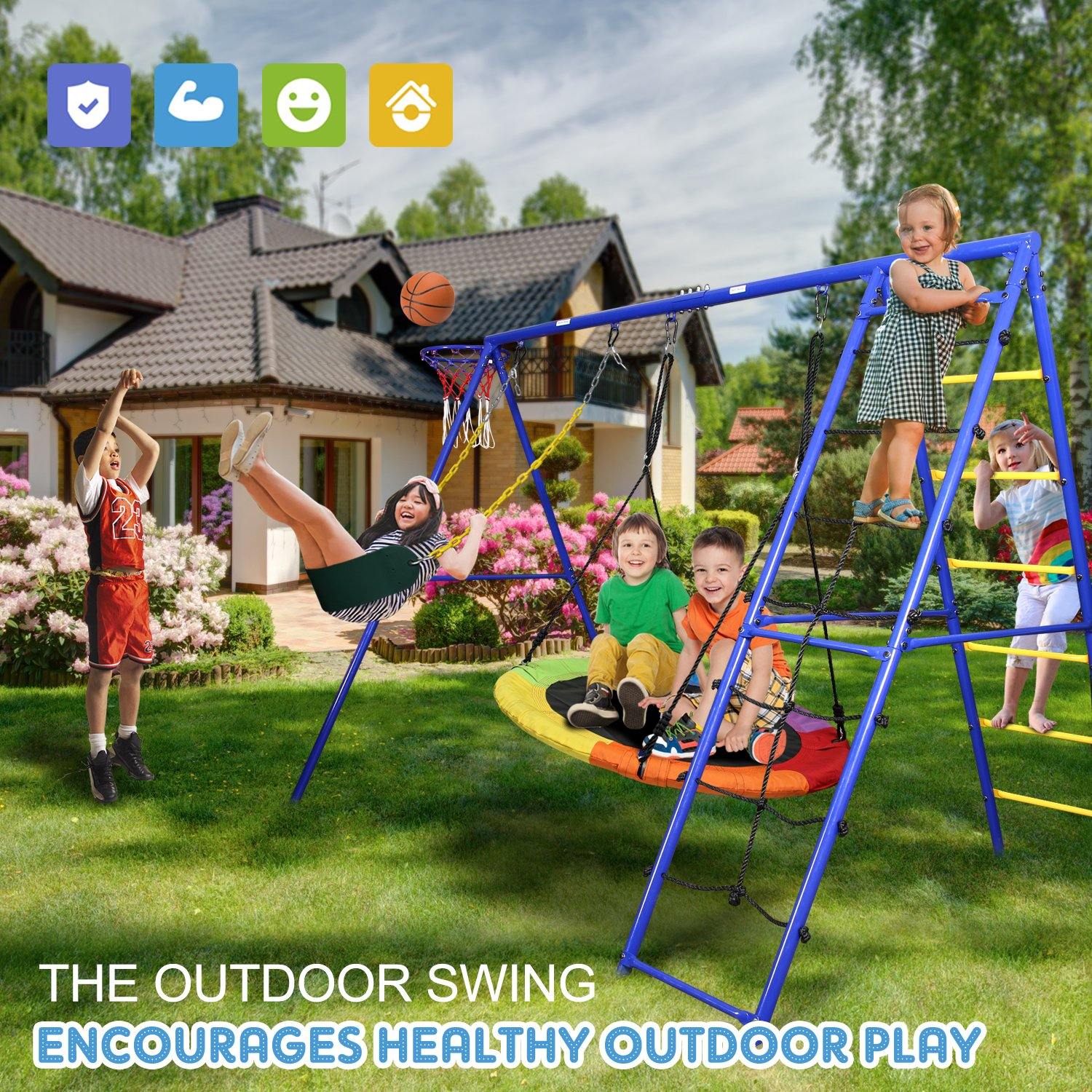 On a sunny afternoon, go to the park for outdoor activities with the children. I have to say that this is indeed a very pleasant thing and can bring parents and children closer. On the playground equipment in the park, children can experience the joy of outdoor games.
But in many cases, the limited amusement facilities does not allow children to fully enjoy the fun of the game. Or sometimes it is hard to take the children out to relax due to various unexpected events. If you often face such dilemmas, or you are being troubled by such things, then I highly recommend you to try to prepare a family outdoor metal swing set for the children. 
So, what the playset exactly is?
In the park, you may find some different facilities like the saucer swing, belt swing, climbing ladders or net etc. Actually, a playset is the combination of these several playground equipment. Take our swing playset DR0515C as an example:
A 32-inch saucer swing.
In fact, for very young kids (3-5 years old), a saucer swing is safer than a net swing. The cloth at the bottom of the swing will make children more relaxed while playing. In general, this will be the children's favorite item for the entire swing set.
A belt swing.
There is no doubt that this swing is for older children or teenagers. They have enough ability to grasp the swing rope and use their body to maintain their balance. And,  the belt swing can fly higher compared with the saucer swing.
Climbing ladder/net
Climbing is a fun and challenging event for energetic children. Children are very interested in games like climbing up the ladder and looking into the distance. In the playset, the climbing ladder will be more suitable for younger children to try, while the climbing net can allow older children to climb. Because climbing nets require more strength to grasp the slightly swaying ropes, so children need to strive to control their body balance.
Basketball hoop
For many children, basketball will become the sport they love throughout their lives. The basketball hoop on the playset set will naturally be welcomed by many children, because it is very useful facility for them to practice shooting.
Five different game devices are integrated into a set of facilities. Now our lives are surrounded by a number of electronic devices. Children are addicted to mobile phones, computers, ipad and other devices, and are unwilling to take steps to embrace nature. So, choose a diversified outdoor swing playset to let your children take the initiative to participate in outdoor games!
---