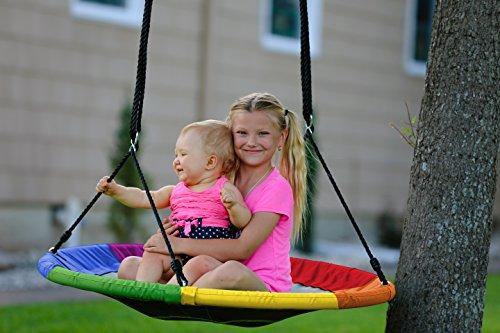 There is no doubt that installing a tree swing in your yard can provide hours of fun and entertainment for your family. However, with so many choices now, it is tough to decide which one is the best tree swing for your backyard, whether a disc swing, tire swing, or a web tree swing.
Types of Tree Swings
There are a few different types of tree swings, with popular ones being the disc or saucer style swing. They are popular for more than one child and come with safety features. There are also tire swings for trees or stand up swings or large tree swings as well as traditional swings that can be attached to trees, swing sets, or patio gazebos!
Things to consider when buying a tree swing
There are a few things to consider when choosing the best tree swing for your family.
Dimensions of Kids Tree Swings
Seat Type
Safety Features
Weight Limits
Materials
What you plan to Hang the Tree Swing on
Consider a Spinner Mount
The most popular swing is the 40" saucer or web swing, which can accommodate more than one child. Klokick also stock these two kinds of tree swings. They are made of 900D Oxford fabric materials and 71 inch length Suspension Rope. The extra-strong rope swing is rated to 700lbs weight capacity.
---